IMAN meets with Grand Mufti of Lebanon
الاحد, 3 نيسان 2016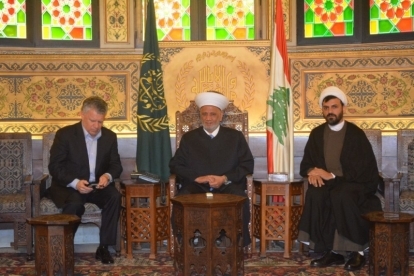 Former US deputy assistant defence secretary James Clad and Sheikh Mohammed Al-Hajj Hassan, the Iman Foundation's President for the Middle East, recently called on the Grand Mufti of Lebanon, Sheikh Abdel-Latif Deryan, during a visit to the country sponsored by IMAN.
The three discussed the political and religious issues facing Lebanon and elsewhere in the Middle East. All agreed that increasing levels of conflict and sectarianism in the region were cause for great concern and each reaffirmed their strong commitment to interfaith and intrafaith dialogue.
During his one week visit to Lebanon, Mr. Clad also participated at a 'discussion seminar' convened by the Conflicts Forum NGO.
He also met with Member of the Lebanese Parliament and Leader of the Kataeb Party, Samy Gemayel, Interior Minister Nouhad Mashnouk, the Vice Chair of the Lebanese Parliament and various other cabinet ministers.
The week's programme included attendance at an inaugural event for the new non-sectarian charity foundation 'Tavleen'.
Despite residual political tensions, the visitor's 'takeaways' include, first, a deeper appreciation of Lebanon's continuing resilience and, secondly, an awareness that comprehensive monitoring of recent great power concords with Iran should include a reduction in the interference of regional powers (principally though not exclusively Iran and Saudi Arabia) in Lebanon's affairs.
The 1975-90 civil war seared into Lebanese consciousness the need to maintain communal and sectarian peace.
"It's a country in almost continuous political dialogue," Clad observed, "with the guns mostly silent –for an indefinite period, let's hope."
المزيد من المقالات الاخبارية