IMAN Foundation meets with The Hon. Hu Deping
الاربعاء, 10 شباط 2016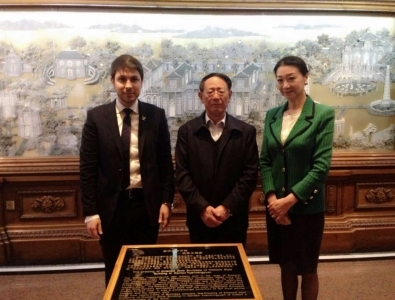 Delegates from the Iman Foundation recently met with The Hon. Hu Deping in Beijing, China.
Hu Deping is vice chairman of the All-China General Chamber of Industry & Commerce, Secretary of National Association of Industry and Commerce, and vice minister of the Propaganda Department of the Communist Party of China. He is the eldest son of Hu Yaobang, a very prominent and respected figure in China as the Party Chairman & General Secretary of the Chinese Communist Party.
Iman Chairman Ribal Al-Assad and Vice-Chair Xiaonan Su Hawke met with Mr. Hu to discuss the importance of cultural dialogue and the lessons that can be learned through cultural exchange. All agreed that the meeting was a great success and looked forward to further cooperation in the future.
To learn more about Mr. Deping, please click here.
المزيد من المقالات الاخبارية