London: Iman Panel discusses Role of Arts and Culture in Interfaith dialogue and Cultural Diplomacy at International Conference
Wednesday, 29 August 2012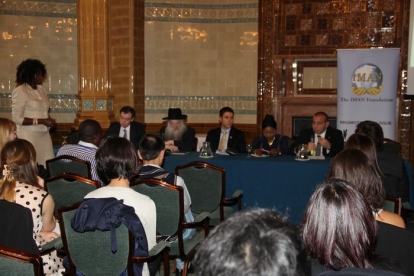 The Iman Foundation & Institute of Cultural Diplomacy (ICD) held a joint international conference in London on 24th August 2012 at the National Liberal Club in London.
The conference explored the role that Arts and Culture can play in Interfaith dialogue and Cultural Diplomacy and had many prominent speakers in attendance including:
Ms Hailey Woldt, Expert on Cultural Diplomacy
H.E. Mr Mauricio Rodriguez, Ambassador of Columbia to the UK
Mr Tony Haynes, Director and Founder, Grand Union Orchestra
The joint conference was the first day of ' A Forum for Young Leaders (Arts and Cultural Diplomacy), which focused on the theme of: "The Unifying Powers: A Blueprint for Advancing Cultural Diplomacy through the Arts."
A distinguished panel discussed "The Role of Arts and Culture in Interfaith dialogue and Cultural Diplomacy". It was very well received by the audience of young leaders and was followed by a comprehensive question and answer session.
The panel members were:
Mr Ribal Al-Assad, Chairman, the Iman Foundation
Ms Patti Boulaye, Ambassador for Peace
Ms Mili Gottlieb, Film Producer
Rabbi Herschel Gluck, Chairman, Muslim - Jewish Forum
Mr Potkin Azarmehr, Producer, Manoto TV
Hon. James Wharton MP
Moderator: Ms Norman Wright, Program Director, ICD
The Institute for Cultural Diplomacy is an international, not-for-profit, non-governmental organization with headquarters in Berlin, Germany. The ICD´s ultimate goal is to promote global peace and stability by strengthening and supporting intercultural relations at all levels. Over the past decade the ICD has grown to become one of Europe's largest independent cultural exchange organizations, hosting programs that facilitate interaction among individuals of all cultural, academic, and professional backgrounds, from across the world.
More news articles »