London: Iman holds dinner discussion on extremism and sectarianism with Coptic Christian leaders
Monday, 30 April 2012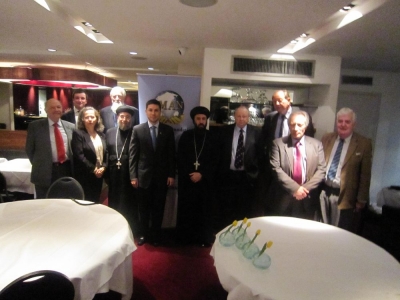 The Iman Foundation held a dinner discussion on challenging extremism and sectarianism with leaders of the Coptic Orthodox Church in the UK at a central London venue.
The Chief guest was His Grace Bishop Angaelos, General Bishop of the Coptic Orthodox Church of Egypt (the Coptic Orthodox Church Centre, Stevenage, UK)
Others present included Ribal Al-Assad, Revd. Fr. Shenouda, parish priest at the Coptic Centre, Lord Hamilton, Lord Kilclooney, Lord Hylton, Revd. Dr. Robert Carroll, Mrs Mili Gottileb, Mr Ralf Land, and Mr Justin Glass.
Commenting on the dinner, Ribal Al-Assad, Chairman of the Iman Foundation, said:
"The Iman Foundation was delighted and honoured to host His Grace Bishop Angaelos and all the other distinguished guests. We had an excellent discussion about tackling extremism and sectarianism in Egypt, the Middle East and North Africa.
"It is vital that we work together to challenge all those who use religion to incite hatred, conflict and violence.
"We look forward to working with His Grace Bishop Angaelos and the Coptic Church to bring greater reconciliation, understanding and mutual acceptance between Christians and Muslims."
More news articles »