Lebanon: IMAN's delegation of British MPs calls on National Liberal Party leader MP Dori Chamoun
Wednesday, 25 August 2010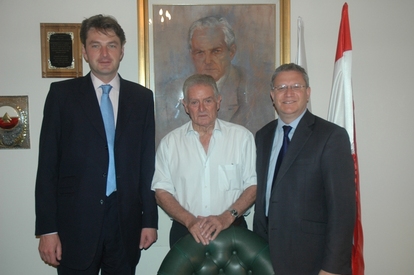 Two British Conservative MPs yesterday met with the leader of National Liberal Party MP Dori Chamoun in Sodico, Beirut, as part of an IMAN delegation aimed at promoting international dialogue and strengthening international understanding. MP Andrew Rosindell, who is a member of the UK's Foreign Affairs Committee and MP Daniel Kawczynski, who is the parliamentary chairman of the Conservative Arab Network were on a two day visit to Lebanon. They discussed political and economic issues with Mr Chamoun who took them on a tour of Shouf, where they saw the potential of Lebanese agriculture. The MPs also toured the historic area of Deir Al-Qamar.
The MPs expressed their support for the Lebanese Government and called on Lebanon to form a unified national strategy and to repel all attempts at external interference.
The delegation also included Sheikh Mohammad Al Hajj Hassan and Retired Lieutenant Colonel Tamer Awada.
More news articles »