Iman launches 'Say No to Extremism and Sectarianism' Campaign in British Parliament
Tuesday, 19 July 2011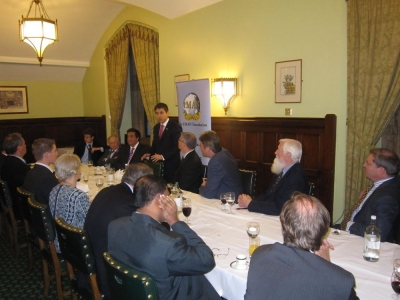 Ribal Al-Assad, the Chairman of the Iman Foundation, has launched Iman's campaign to 'Say No to Extremism and Sectarianism' at a dinner discussion in the British Parliament. He called for dialogue across faiths and cultures to bring about reconciliation, understanding and mutual acceptance.
The Iman dinner was attended by parliamentarians, Lord Janner, Lord Hylton, Baroness Hooper, Andrew Rosindell MP, David Amess MP, Daniel Kawczynski MP, James Wharton MP, Geoffrey Clifton-Brown MP, Rory Stewart MP, Bob Blackman MP and Charles Tannock MEP.
A comprehensive and robust discussion took place about challenging the extremism and sectarianism that is currently afflicting the Middle East and North Africa.
Commenting on the dinner and the launch of the campaign, Ribal Al-Assad said:
"I was delighted and honoured that so many distinguished parliamentarians attended our dinner and understand the dangers of extremism and sectarianism.
"Extremism exists in many forms across the world and is often driven by social, political and economic factors.
"In the Middle East and North Africa, there is compelling evidence that sectarian tensions are being manipulated for political ends by state and non state actors. This could potentially lead to greater conflict and violence across the region.
"Iman will campaign to say no to extremism and sectarianism in the MENA region, and around the world. We will campaign for zero tolerance of extremism and sectarianism.
"Our campaign will highlight individuals, groups, organisations and governments who promote and propogate extremism and sectarianism by using religion to incite hatred, conflict and violence.
"It is imperative for the international community to show zero tolerance to all those who use religion to incite hatred, conflict and violence."
More news articles »