Iman Chairman attends Jewish New Year Celebration in EU Parliament
Saturday, 24 September 2011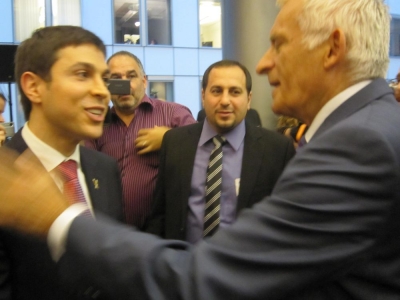 Ribal Al-Assad, the Chairman of the Iman Foundation this week attended a reception in the EU Parliament to celebrate the Jewish New Year. The event was with the presence and under the patronage of the President of the European Parliament, Mr Jerzy Buzek MEP. Other guests and speakers included Rabbi Levi Matusof (Director, European Jewish Public Affairs), Mrs Nehama Tawil (European Jewish Community Centre), Mr Tomer Orni (CEO, European Jewish Union) and Rabbi Avi Tawil.
Commenting on the event, Ribal said:
"I was delighted to join our Jewish friends to celebrate Rosh Hashanah in the European Parliament. It was a pleasure to meet with President Buzek and others. I would like to wish the Jewish community across the world a very happy new year."
More news articles »