Cairo: Iman delegation calls on Pope Shenouda
Thursday, 23 September 2010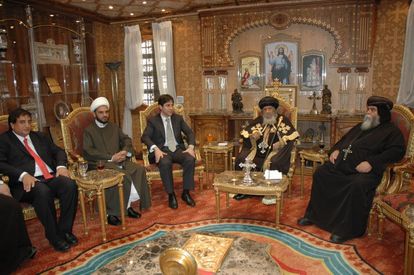 An Iman delegation today called on His Holiness Pope Shenouda III, the Coptic Christian Orthodox Pope of Alexandria, at the papal residence in Abbasiya, Cairo. The delegation comprised of Chairman of Iman, Ribal Al-Assad and Sheikh Mohammad Al Hajj Hassan.
In the discussion Ribal Al-Assad said Iman was established to be a "bridge between brothers from different religions" and that the "role of the organisation is to help heal the divisions between religions and to bring stability in the world." He stated that "Iman believes that dialogue is the best way to resolve current tensions and conflicts." He added "Iman is against extremism and terrorism and that no religion advocates such evils. Therefore it is imperative that we collectively counter militancy and fundamentalism so that we may all live in peace."
His Holiness Pope Shenouda III said he was delighted to meet with the delegation and welcomed Iman's noble aims. He said the organisation had his full support and blessings. He wished Iman every success so that the language of wisdom and love would prevail over the language of hatred and extremism.
More news articles »