Iman Hosts Conference 'Islamism, Global Solutions to a Global Threat'
Mercredi, 8 avril 2015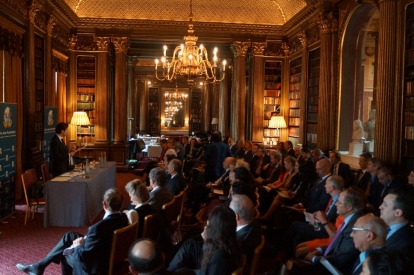 The Iman Foundation was pleased to host its annual Conference in London, this year on the subject of 'Islamism, Global Solutions to a Global Threat'.
The conference was chaired by Mr William Morris, Secretary-General of the Next Century Foundation, with a number of highly distinguished panellists taking part. These included:
The Hon. Halldor Asgrimsson
Former Prime Minister of Iceland
The Hon. Cyril Svoboda
Former Deputy Prime Minister of Czech Republic
The Rt. Hon Lord Hamilton of Epsom
Conservative Peer and former Minister for Defense in both Thatcher and Major governments
Prof. Cynthia Schneider
Former US Ambassador to the Netherlands and Professor at Georgetown University
Francesco Rutelli
Chairman, Priorita Cultura Association and former Prime Minister of Italy
James Clad
Former US Dep. Secretary for Defense for Asia and senior advisor at the Center for Naval Analyses
Marty Martin
Former member of US National Security Agency, expert on counter-terrorism
Xiao Wunan
Executive Vice Chairman of Asia Pacific Exchange and Cooperation Foundation (APECF)
Nasser Khan
Vice-President of the Ahmadiyya Association UK
A large number of people were in attendance including a host of politicians, academics, diplomats, journalists and representatives from the international community. Other members of the Iman Foundation Board and supporters were also present including The Hon. Bertie Ahern (former Prime Ministter of Ireland), The Hon. Mirko Cvetkovic (former Prime Minister of Serbia), Kristiina Ojuland (former MEP and Foreign Minister for Estonia), Lady Griffiths, Mr Ralph Land CBE, Potkin Azarmehr, Patti Boulaye, Mili Gottlieb, Yasmin Allawi, Stephen Jones, David Abrahams (Vice President of RUSI), Charles Bennett (Director European-Atlantic Group) and Lord Stone of Blackheath.
Three panel discussions were held in total on the areas of social/cultural solution, military solution and political/economic solution. Following the conference a reception was held for all those that had attended.
The Chairman of the Iman Foundation, Ribal Al-Assad, opened the conference with the following speech:
Good afternoon, distinguished colleagues …
… lords, ladies and gentlemen …
… and welcome on behalf of the Iman Foundation.
Today we are gathered to discuss the problem of Islamism …
… and global solutions to what truly is a global threat …
… because sadly the need for solutions is more urgent than ever.
The slaughter of 150 people at Kenya's Garissa University College last week is only the latest reminder that Islamism is a global phenomenon …
… and the greatest threat to world peace and stability since the Nazis.
Meanwhile in Libya, Islamists affiliated to Islamic State have carried out several high-profile attacks in recent weeks …
… including the beheading of 21 Egyptian Copts.
Libya has been in a state approaching anarchy since Islamist militias hijacked that country's revolution during the Arab Spring
… just as happened in my own homeland, Syria.
Indeed, recent developments in Syria itself have borne out some of my worst fears, which I have been warning about for several years now …
… not only the escalation of civil war …
… but it's spiralling into a regional sectarian war …
… but before I go on to discuss the geopolitical situation that is fuelling the conflict in Syria and elsewhere …
… let me remind you of the human cost of Islamist violence there.
Just last week, in an attack on the central Syrian village of Mabuja, Islamic State fighters killed over 40 people, mostly civilians
… and these were just the latest victims.
Thousands of civilians have been killed not only with bombs and bullets …
… but often in the most brutal ways imaginable.
Two weeks ago, the Islamic State released a video showing the beheading of eight men said to be Shiite Muslims from the central province of Hama.
And last month, Kurdish authorities announced they had evidence that the Islamic State in Iraq has used chemical weapons.
But while the world now knows all about the barbarism of that particular organisation …
… the Islamic State is far from being the only problem.
Less than two weeks ago, the north-western Syrian city of Idlib fell, not to the Islamic State, but to the Nusra Front …
… the Syrian affiliate of al-Qaeda …
… who also kidnapped 300 Kurds in the same part of Syria on Sunday.
As I have long argued, while there are dozens of Islamist groups with different names …
… in reality they are little more than brand names describing the same product …
… a product whose key features are religious extremism and murderous violence.
In fact, experts like Fawaz Gerges of the London School of Economics argue that the focus on Islamic state has distracted us from the fact that other groups are just as bad.
He says, "The international community really has lost sight of the fact that the al-Nusra Front is as dangerous, is as extremist"
… and by focusing solely on Islamic State, we are actually helping other extremists.
That's why the Canadian defence minister Jason Kenney's recent insistence that Canada will only target Islamic State …
… and will leave the Nusra Front alone …
… make no sense.
If it is left alone, in a few years the Nusra Front will be the big, frightening group like Islamic State now.
Now, it is bad enough that we are unwittingly aiding the Nusra Front by targeting the Islamic State only, and forgetting about others who share the exact same perverted ideology …
… but I am afraid there are some commentators who want us to back the group deliberately.
The Nusra Front's friends in Qatar and Turkey want them to disassociate themselves from al-Qaeda …
… not to abandon violence or Islamist ideology, you understand …
… but merely to undergo a rebrand …
… and some in the West seem to think that if they do this, then suddenly they will be suitable allies for the democratic world (!)
For example, both Lina Khatib of the Carnegie Middle East Centre and Charles Lister from Brookings Doha Centre in Qatar …
… have suggested we should support al-Qaeda's Nusra Front and other Islamist groups in their struggle against both the Syrian regime and the Islamic State …
… as if there are somehow "good Islamists" and "bad Islamists" …
… good terrorists and bad terrorists (!)
Ladies and gentlemen, let us not forget that it was not Islamic State but al-Qaeda that carried out the 9/11 attacks in 2001.
If only Osama bin Laden had thought of rebranding himself as a 'moderate' …
… perhaps he would be alive today as a Western ally (!)
To seek alliances with self-styled moderate Islamists is to repeat exactly the same mistake the West made at the very beginning of the conflict in Syria.
And you don't have to take my word for that.
One of the foremost advocates of providing the Syrian rebels with military support was Robert Ford, the former US ambassador to Syria …
… and he has now admitted that the results have been disastrous.
Ford said in February this year that for too long the US had looked the other way while the groups they were backing in Syria worked alongside the Nusra Front.
As he now admits, "Nusra Front is just as dangerous …
… and yet they keep pretending they're nice guys, they're Syrians" .
He also admits significant amounts of US military aid were leaked to the Nusra Front …
… so we've already done more than enough to support those particular extremists (!)
In this context, victory for the so-called rebels would lead not to the liberation of Syria, but to disaster.
Former French defence minister Paul Quilès recently argued that the fall of the regime without an organised transition would lead to "a Libya-type situation …
… the collapse of the state, chaos, then the destabilisation of Lebanon and doubtless Jordan too."
And he also condemned nominal Western allies like Saudi Arabia, Qatar and Turkey …
… for seemingly working towards that very outcome.
That brings me to another major mistake made by the West in Syria …
… our poor choice of allies …
… and failure to understand their role in the conflict.
Last October, looking back at the conflict so far, US Vice-President Joe Biden told students at Harvard University, 'Our allies in the region were our largest problem in Syria' …
… and explained that they had effectively started a 'proxy Sunni-Shia war' in their determination to bring down the Syrian regime …
… deliberately cultivating groups like the Muslim Brotherhood, al-Nusra, ISIS and later the Islamic State.
It was later reported that the vice president subsequently apologised even for raising the issue of our allies' complicity with such groups ...
… but it is ridiculous that the most powerful country in the world should be apologising for telling the truth.
The same red lines must apply to all, with no special treatment for so-called allies who sponsor terror …
… because, again, there is no distinction to be made between 'bad terrorism' sponsored by non-allies and 'good terrorism' sponsored by allies (!)
And we cannot advocate democracy and freedom in some regions while accepting the opposite in others …
… because as we have seen, the result is too often terror on our own doorstep.
Take the massacre of the Charlie Hebdo cartoonists in Paris.
It has been reported that two of the terrorists, the Kouachi brothers, received weapons training in Yemen in 2011 …
… and the Yemen-based al-Qaida in the Arabian Peninsula claimed responsibility for the attack.
But to understand why these men did what they did, it is not enough to trace their connections to particular terror groups …
… we must also understand who is really behind the rise of such groups …
… and sustaining them with money and TV stations broadcasting jihadist propaganda to recruit new members.
Now, the recent death of King Abdullah focused the world's attention on Saudi Arabia …
… which had itself been the target of a terrorist attack early in January.
This raised fears of further attacks from both Iraq and Yemen …
… but the threat to Saudi Arabia stems not just from its geographical location.
More important is the fact that the legitimacy of the regime is based on its adherence to Salafi Wahhabism …
… an ideology in many ways indistinguishable from that of the terrorists.
Of course, King Abdullah condemned terrorism, and explicitly denounced the Islamic State …
… and his successor King Salman is expected to do the same…
… but the religious ideology of Saudi Arabia openly endorses the oppression of women …
… and hatred of other Muslim sects, Christians and Jews …
… as well as strict punishments like limb amputations.
In recent months, a Saudi blogger has been sentenced to 1,000 lashes …
… and a woman publicly beheaded in the holy city of Mecca.
The Saudi government has recently passed a law imposing the death penalty on anyone caught smuggling Christian Bibles into the country …
… and in 2012, the Grand Mufti notoriously called on Muslims to burn down churches throughout the Middle East.
Again, we must ask, how is this any different from the ideology of the Islamic State, al-Qaeda and the Taliban? (!)
And why do our governments not speak out against it?
In fact, the Swedish Ambassador to Saudi Arabia has been withdrawn after criticising the regime's treatment of women and minorities …
… and she is to be commended …
… but we must understand that it is not a case of balancing ethics with realpolitik, as many observers believe …
… because realpolitik demands that we recognise the threat to our own national security …
… and act accordingly.
Prince Charles recently spoke of his alarm at the radicalisation of British Muslims …
… as well as his "deep concern" for the suffering of Christian churches in the Middle East …
… and I sincerely hope that he raised these issues when he met King Salman in February …
… because it is incredibly naïve to imagine that the persecution of Christians in Saudi Arabia is not taken by Islamists here in the West as a green light to kill non-Muslims.
The extent of the political influence of Islamic extremism in Saudi Arabia was revealed last November …
… when the Information Minister Abdulaziz Khoja closed down a satellite TV station that was inciting sectarian hatred and violence …
… but instead of being commended, he was promptly sacked …
… and the extremist TV station was reopened (!)
In fact, when I asked a more senior Western educated Saudi official to take a tougher line on these TV stations, he feigned surprise …
… and said he'd thought I was in favour of democracy and free speech …
… as if promoting hatred and violence has anything to do with democracy (!)
Of course, it is not just Saudi Arabia we should be concerned about.
Kuwait is another dubious ally.
Last year, its justice and Islamic affairs minister Nayef al-Ajmi was exposed by US Treasury Undersecretary David Cohen as a prominent fundraiser for terrorist groups in Syria …
… but rather than being prosecuted, he was allowed to quietly resign, citing health reasons …
… so we must take a harder line with these countries.
Qatar is another.
Sir Malcolm Rifkind, the chair of the UK Parliament's Intelligence and Security Committee, has rightly pointed to Qatar's role in promoting terrorism …
… and said they 'must choose their friends or live with the consequences'.
Unfortunately, when US Defense Secretary Ashton Carter was asked about Qatari funding for extremists by the House Armed Services Committee just three weeks ago …
… he acknowledged the problem, but then said, "We can continue to work with them on areas where we disagree" …
… which suggests he is unwilling to take a sufficiently hard line in his own country's interests.
And the problem with these Gulf states is not just their ideological support for Islamism.
Bernard Squarcini, a previous Head of France's counter-espionage and counter-terrorism Intelligence agency, has pointed to Saudi Intelligence actively supporting extremist groups from Afghanistan to Lebanon …
… and Syria to Egypt to Mali…
… and the former Head of French Interior Intelligence, Yves Bonnet has accused both Qatar and Saudi Arabia of funding extremist Islamist networks in France.
It is clear that vast amounts of money and arms make their way from a variety of Saudi and other sources to Islamist terrorists, especially in Syria and Iraq …
… but it is not just covert support for extremist groups that we should be aware of.
Since the death of King Abdullah, Saudi Arabia has been openly engaging and strengthening its ties with Hamas, the Islah Party in Yemen …
… and with the Muslim Brotherhood throughout the Middle East …
… in a bid to build what it calls an "Arab Alliance" …
… effectively in opposition to Iran.
There are two key reasons for this.
First, Iran will be in a much stronger position internationally now that it has reached a nuclear deal with the US …
… which is precisely because the US now sees Iran as a lesser evil compared to the Islamist extremist groups in the Middle East who are supported by our so called 'Allies" …
… and secondly, that very same rise of Islamic extremism means minorities throughout the region now look to Iran as their saviour …
… including Shia Muslims in eastern Saudi Arabia itself …
… so the Saudis see Iran as even more of a threat
In response, their 'Arab Alliance' involves strengthening the Gulf Cooperation Council …
… as well as cultivating wider regional allies …
… for example, Egypt is part of the Saudi-led coalition fighting the Houthis in Yemen …
… largely because the Egyptian regime is worried about losing economic support from Saudi …
… and for the same reason it is even under pressure to reconcile with the Muslim Brotherhood.
Even more ominously, according to the liberal Saudi journalist Jamal Khashoggi, it was Saudi and Turkish sponsors who backed the Nusra Front's capture of the Syrian city of Idlib …
.. and he suggests that "Coordination between Turkish and Saudi intelligence has never been as good as now" …
… despite the fact that they were previously seen as rivals.
On that note, however, it is clear that the so-called 'Arab Alliance' has little to do with genuine Arab unity.
For example, the Houthis are Arabs too, not Iranians …
… and if they were not being marginalised, they would not even think of looking to Iran for help.
The same goes for Arab Shias, Arab Alawites and Arab Christians throughout the region …
… and on the other hand, what is so Arabic about an alliance that now includes Turkey and Pakistan? (!)
In reality, the Saudi-led alliance is not Arabic but merely sectarian …
… so it should be cause for great concern that another of its allies in regards to the conflict in Yemen is the US …
… which is providing logistical and intelligence support to Gulf Cooperation Council-led military operations …
… and unwittingly participating in precisely the kind of sectarian conflict that is tearing the region apart.
So the conflicts in Syria, Iraq and Yemen are already sectarian proxy wars …
… with Iran backing both regimes, the Houthis and former President Saleh …
… while Saudi Arabia, Qatar and Turkey support the Islamists in Syria and Iraq and President Hadi in Yemen.
I will return to Turkey a little later …
… but first I want to explain that the conflict is not just regional, but global …
… with both Russia and China joining Iran in siding with the Syrian and Iraqi regimes …
… and it is reported that Russia is about to supply Iran as well as Syria with its long-promised S-300 air defence system.
In fact, Russia and China themselves have increasingly close bilateral ties.
China is directly challenging the NATO powers' policy of cutting off credit to Russia, by pledging to extend financial aid to Moscow.
The two countries have also been boosting cooperation in the military, financial and energy sectors …
… increasingly switching to settlements in yuan, which will reduce the influence of the dollar on the world financial and energy markets …
… and the Chinese recently announced a Silk Road-style economic corridor linking China to Russia and Mongolia.
Moreover, Russian defence minister Sergei Shoiguhas announced in November that the two countries are intent on forming a "collective regional security system" …
… and planning joint naval drills not only in the Pacific, but even in the Mediterranean.
Chinese Defence Minister Chang Wanquan has spoken of the ever-closer military-to-military relations between the two countries …
… including "high-level visits, joint exercises and professional communication."
Recent Russian military exercises seem to have been deliberately chosen to send a warning to NATO …
… and Russia's ambassador to Denmark recently warned that if the Danes signed up to the NATO missile defence programme, "Danish warships will be targets for Russia's nuclear weapons".
On the diplomatic front, China has backed Russia, with the Chinese ambassador to Belgium, Qu Xing, blaming the Ukraine crisis on a game being played by the Western powers …
… and calling on them to take Russia's security concerns more seriously.
China and Russia have been pushed together because they both feel threatened by what they perceive as a US policy of 'encirclement', closing in on their borders ….
… and these concerns inform their entire foreign policy, including relations with the Middle East.
Inevitably, many Western observers will see Russian-Chinese military ties as a threat …
… but it is imperative that we are not drawn further into a proxy war in the Middle East.
Islamic extremism is the greatest threat the world has faced since the Nazis …
… but the enemy is active not only in the Middle East, but within the borders of every country I have mentioned.
We have a clear common interest in uniting to defeat it.
Unfortunately, our interventions have sometimes been counter-productive.
Certainly, the Western powers badly mishandled the so-called 'Arab Spring'.
Last December, Russia's Chief of General Staff Valery Gerasimov told a meeting of foreign military attaches in Moscow …
… that without the financial and technical assistance provided by the US and its allies to rebels fighting the Syrian government
… the rapid growth of Islamic State would not have been possible.
Sadly, this is perfectly true …
… and it is not only Russian observers who understand the risks of well-intended intervention fanning the flames.
US General Lloyd Austin III said in 2013 that, "The conflict in Syria cannot and will not be resolved militarily" …
… and warned that, "left unchecked, the spread of violence and terrorist activity emanating from Syria could result in a long, drawn out conflict …
… that extends from Beirut to Damascus to Baghdad to Yemen."
Indeed, as Robert Ford admitted, many of the arms now in the hands of Islamist extremists like Islamic State and Al-Nusra were supplied by the West to supposedly 'moderate rebels' in Syria …
… like the Hazm Brigades, who simply surrendered their weapons, while many even joined the extremists…
… because they actually share the same ideology.
I warned at the time that arming any of the groups fighting in Syria would be a grave mistake.
Of course, the regime is tyrannical and does not represent the Syrian people …
… but that never meant that every rebel group stood for democracy …
… and very soon it was the most extreme groups that dominated the opposition to the regime.
The fundamental problem was that the West did not intervene politically early on, before the conflict became militarised …
… which left other countries to take the lead.
Certain Gulf states that were worried about the domino effect of the Arab Spring, and who wanted to counter the influence of Syria's ally Iran …
… made sure that those extremist elements dominated the opposition …
… and used jihadist television stations to foment sectarian war.
Saudi Arabia and Qatar channelled billions of dollars and later arms to competing Islamist groups, while the democratic world stood by.
With help from Qatar as well as Turkey, the Muslim Brotherhood effectively hijacked the revolution from outside Syria itself …
… again, as the West stood by.
As a result, Michael Morell, the outgoing Director of the CIA, has described the situation in Syria …
… which is attracting fighters from all over the world …
… as the single biggest threat to US National Security...
… and as Europe is much closer, we know the threat must be even higher here …
… so why did it take nine months for the UK and other European governments to respond to his warning?
So former US Attorney General Eric Holder is right to stress the importance of a broad counterterrorism strategy …
… to earlier identify radicalised individuals who are traveling to the region and returning home as trained terrorists.
China's special envoy for the Middle East, Wu Sike, speaks of the same danger, arguing …
… "After being immersed in extremist ideas, when they return home they will pose a severe challenge and security risk".
He suggests that all the countries threatened by such terrorism should form "a closely knit community of shared interests".
We have seen how real the danger is …
… not only from extremists returning from the Middle East …
… but from lone-wolf attacks all over the world …
… most recently in Paris and Copenhagen, but before that in Ottawa, in Boston …
… in Belgium, Russia, western China …
… and of course here in London.
The Home Secretary Theresa May announced in November that no fewer than 40 terror plots have been foiled in the UK since the 7/7 attack …
… but it only takes one terror plot to slip through the net for innocent lives to be lost.
The terrorist threat is global …
… and this fact is reflected on the ground throughout the Middle East and North Africa.
British MP Khaled Mahmoud said last year there are 2,000 British fighters …
… while a German security official estimates there 1,800 Germans …
… far more than previous estimates of a few hundred, which Western governments have preferred to stick to in order to prevent panic.
The CIA and UN estimate is that there are a total of 15,000 foreign fighters in Syria and Iraq.
But US Attorney General Eric Holder has said there are around 7,000 fighters from the West alone …
… which would leave only 8,000 from other Arab and Muslim countries!
Logically, though, there must be far more fighters from Arab and Muslim countries than Western ones.
The population is poorer, the governments have less sophisticated surveillance technology and infrastructure …
… and there are a lot more mosques and clerics who are funded by some of our allies in the Gulf countries to recruit people.
So the number of fighters from the Arab and Muslim countries must be at least ten times higher than the number from the West.
Most of these foreign fighters enter Syria from Turkey, which remains an important player.
Turkey has also supported ISIS, al-Nusra, and other Islamist groups…
… so it is little wonder that despite being a NATO member it refused to sign up to the coalition against the Islamic State.
In fact, one of last year's ISIS attacks on the Syrian Kurdish town of Kobani was launched from Turkey …
… and it was reported that senior Turkish intelligence officials even had talks with the ISIS leaders …
… because they see the Kurds as a threat to Turkey and want to see them weakened.
Nevertheless, it seems that Turkey has now resolved to drop support for Islamic State in favour of Al-Nusra only.
You see, IS have destroyed many churches and other religious sites in Syria, even Muslim tombs, which they regard as blasphemous …
… so the fact that they left alone the tomb of the Ottoman forefather Suleiman Shah suggests that they had a deal with Turkey
… and the fact that the Turks recently entered Syria to remove it suggests that deal is over.
They have now secured it in a Kurdish village on the Syrian side of the border …
… given them a pretext to retain a presence of their own there …
… acting as an ongoing threat against the Kurds.
Anyway, Turkey's motives for supporting Islamist groups in the first place are different from those of the Gulf States.
It sees Syria as the natural place to extend its influence south into the Arab world …
… cutting off Iran and sealing Turkey's own role as the champion of the Sunnis throughout the Middle East…
… effectively rebuilding the Ottoman Empire.
When the Muslim Brotherhood's Youssef al-Qaradawi talked a few years ago of Islam's 'peaceful conquest' of the West, the vehicle he had in mind was Turkey's prospective EU membership …
… but with that rejected, Turkey now has a new focus …
… and that is why it now has no interest in the EU.
In December, President Erdogan responded to EU criticisms of its crackdown on opposition media by declaring …
… "When taking such a step we don't care what the EU might say …
… or if the EU is going to accept us."
Instead, it is happy to let Islamist forces gain as much territory as possible in Syria and Iraq …
… until the international community is forced to allow the Turkish army to move in and impose order …
… checking the influence of Iran in the process.
The West let Turkey set the agenda in Syria once before …
… and we have seen the consequences …
… so it is vital that we do not make the same mistake twice.
The international community must form a united front against Islamic terrorism and its various sponsors.
Countries like China and Russia may not be natural allies for the democracies of the West …
… but they are at least rational actors in international relations, who understand their own interests …
… and most importantly, understand the threat of Islamic terrorism …
… one they face in common with the West.
The end of the Cold War means there is no need to sustain hostilities and alliances formed in the shadow of war with the Soviet Union …
… when those very alliances threaten global stability more than the East-West tensions they are unnecessarily fuelling.
We must rethink such alliances and be more sophisticated in our approach to the politics of the Middle East.
We must not allow ourselves to be manipulated by those who seek, in the words of President Putin, 'to use extremism as a geopolitical instrument' …
… playing one power off against another for their own ends, while the terrorists they sponsor run riot.
Instead, we must match the new sophistication of terrorism with a new sophistication of our own.
Of course, we must take on the terrorists militarily, as President Obama has promised to …
… but we must also make the effort to trace the financial and political lifelines that sustain the terrorists …
… and to cut them off at source.
For example, the Russian president is right to note that "Extremist ideology is gaining momentum in the virtual sphere …
… through which extremist organisations are trying to recruit followers".
So we must shut down jihadist websites …
… along with any other media that promote religious hatred …
… and incite murderous violence.
We must stop pretending that the countries that tolerate and even encourage Islamic extremism are our allies …
… and we must ensure instead that they face the consequences of their actions.
And of course, we must do as much as we can to promote economic development and political freedom throughout the Islamic world and beyond …
… so that young people there can face the future with hope …
… instead of the despair in which extremism thrives.
This will not happen overnight.
It took Europe hundreds of years to put sectarian and religious wars behind it …
… and to develop stable and secure democratic societies …
… but we can help the rest of the world learn from that experience, even if it takes many years of careful cultural diplomacy …
… and investment in education, development and promoting civil society.
This is because it is not enough simply to defeat groups like Islamic State militarily …
… nor even to cut off sources of funding to particular groups …
… because as I said, Islamic State, al-Nusra, al-Qaeda and the Muslim Brotherhood are no more than brand names.
As long as the ideology of Islamism is allowed to flourish …
… and encouraged by wealthy states …
… new sources of funding will spring up …
… and new terror groups will emerge with new brand names …
… and that same perverted ideology.
I believe that the Iman Foundation has a vital role to play in putting an end to this vicious cycle.
The first step is to recognise the extent and severity of the problem …
… and to resolve to tackle it with renewed vigour …
… while holding to liberal and democratic values.
Because only they will ultimately ensure the defeat of Islamism.
Thank you.
Autres articles sur les évènements