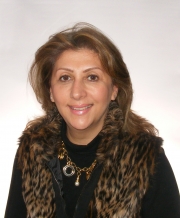 Yasmin Allawi (United Kingdom)
Mrs. Yasmin Allawi is a Vice-Chairman of the Iman Foundation. She was born in Baghdad, Iraq and moved to the U.K. in 1985, where she lives with her family.
Mrs Allawi has a track record of engaging with different cultures and religions to achieve understanding and mutual acceptance.
Her father was a business man and industrialist in Iraq and her grandfather was a member of parliament during the monarchy in Iraq.
Mrs Allawi was educated in Iraq and graduated from Baghdad University in General Administration. She also studied interior design at the American College in London.
In London Mrs Allawi also worked as TV presenter for 'Toward Freedom TV' run by the British Ministry of Foreign Affairs.
She was a parliamentary list candidate for the secular Iraqi Ahrar Party for Baghdad in the last general election in 2010 but was unsuccessful. However she is preparing to stand in the next election in 2014.