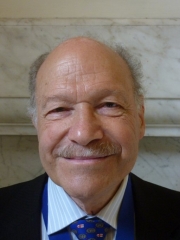 Ralf Land CBE (United Kingdom)
Born in Berlin in 1928, Ralph came to UK in 1939. After completing his school and university studies in London, he combined an interest in computing and technology, working for 42 years for ICL, Rank Xerox and Rolls-Royce, with an active interest in Central & Eastern Europe and USSR/Russia, where he was involved for 33 years.
He combined his day job with extra-curricular activities such as government committees, chambers of commerce and charities. He was involved with the Russian, Romanian, Czech, Bulgarian and Polish chambers and the London Chamber of Commerce and, after stopping full-time employment, hebecame chairman of the Russo British Chamberand of the British Romanian chamber, both for nine years. He visited most of the constituent republics of the USSR and those of Yugoslavia, as well as all the other Warsaw Pact countries. His activities in promoting exports were recognised with an OBE (after ten years with Rank Xerox), followed by a CBE in1995
He successfully bridged the transition from communism to the post-Soviet space, maintaining contacts throughout the area to the present day. His broad interests are reflected in his involvement with the Friends of Pushkin House, the English Speaking Union, the Mid-Atlantic Trust, PCG Worldwide(Chairman), UNICE Task-Force on EU Enlargement(Chairman), the AdHoc Council, the Europe Great Britain Group, the British Know-How Fund, Westminster Foundation for Democracy( Governor) and the European University at St Petersburg.
He is a long-standing member of the Rotary Club of London and was its President 2009-10 (at the age of 81), designing a long term charity Strategy for them, helping to arrange speakers at their weekly lunches.He is the current holder of the Neville Shulman Charity Cup for Rotarians and the holder of a Paul Harris award.He has been since 1992 a trustee of HealthProm, a UK-registered charity which seeks to raise the standards of health-care in the countries of the Former Soviet Union: he has been involved setting up HealthProm'sannual charity cello recitals in memory of Mstislav Rostropovich. He was or is a Trustee of the Hamlet Trust, BESO, the BBC World Service Trust, the LEO Foundation, and has been an advisor to the Princess Margarita of Romania Foundation, founded and chaired the British Consultancy Charitable Trust 2006-11.
In 2010 Ralph and his twin brother, Frank, did a sponsored sky-dive to celebrate their 82nd birthday and raised £14 000 for a pancreatic cancer research project, in memory of his French wife, Jacqueline, who died the previous year. He is partnering with James Layton on a second, larger research project, in memory of their wives.
In the last couple of years, after celebrating his 80th birthday, he has been on business to Russia, Albania, Hungary, Turkey, Greece, Germany, Spain and France. He is an active member of the Reform Club and of the Labour Party. He loves music, going to many concerts, and operas. He was instrumental in organising tours by the London Symphony Orchestra, English National Opera, Royal Shakespeare Company and Royal Ballet to every country in the Warsaw Pact, sponsorship of the Moscow Olympics, the Sarajevo Winter Olympics and the World Youth Games in Split and even sponsorship of football teams in Poland and the Czech Republic.