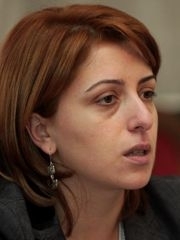 The Hon. Eka Tkeshelashvili (Georgia)
Mrs. Eka Tkeshelashvili is President of the Georgian Institute for Strategic Studies.
Mrs. Tkeshelashvili is Georgia's former Vice Prime-Minister, Foreign Minister and State Minister for Reintegration, where she oversaw the implementation of state policy towards the occupied territories of Georgia and the national policy on minority integration.
She previously served as the National Security Adviser to the President of Georgia/Secretary of the National Security Council of Georgia heading the National Strategic Review Process.
Mrs. Tkeshelashvili was previously the Prosecutor General of Georgia and the Minister of Justice of Georgia leading the criminal justice, civil and public service reforms. She also held the position of the Chairperson of the Tbilisi Appeals Court. In this capacity she headed the operation of the Appeals Court and led the ongoing judicial reform, and was a member of the High Council of Justice of Georgia.
She also previously served as the Deputy Minister of Internal Affairs and Deputy Minister of Justice of Georgia, where she was mainly responsible for international legal relations.
Before joining the government, Mrs. Tkeshelashvili was a Deputy Chief of Party at IRIS Georgia leading it's programs on the rule of law, legal aid and human rights. She also worked as a Field Officer in the International Committee of the Red Cross and was responsible for the programs on the national implementation of international humanitarian law. Prior to that Mrs. Tkeshelashvili served as an intern at the Office of the Prosecutor of the International Tribunal for the Former Yugoslavia (Netherlands) and at the Lawyers Committee for Human Rights (USA).
Mrs. Tkeshelashvili also worked in academic field. She was an Associate Professor and leading courses on public international law and accountability for human rights atrocities at various Georgian universities.
Mrs. Tkeshelashvili holds a master's degree in international human rights law from Notre Dame Law School (USA), a certificate in human rights law and human rights advocacy from Oxford University (UK), and a Diploma in Law from Tbilisi State University