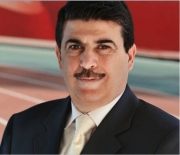 The Hon. Dr. Nazar Al Baharna (Bahrain & United States of America)
Dr. Nazar Al Baharna is Bahrain's former Minister of State for Foreign Affairs (2006-2011) and is currently a Visiting Scholar Researcher at Georgetown University, Washington DC. He completed both his Bachelor's and Master's Degrees in Mechanical Engineering at the University of Petroleum & Minerals in Saudi Arabia. Dr. Al Baharna also holds a Doctorate from the University of Wales, United Kingdom.
Dr. Al Baharna has over 38 years experience in the fields of Education Practice, Engineering, Business, and Consultancy. He held several notable positions at the University of Bahrain, and has published more than 30 papers on Technology, Education, Energy, Mechanical Engineering, and Training.
As a practicing consultant, Dr. Al Baharna has worked in the areas of Management, Leadership, eCommerce, Strategies, and Development, Energy, and Education. He has also contributed to the development of the private sector as a member of the Board of the Bahrain Chamber of Commerce and Industry, and was elected Deputy Vice Chairman of the Board of Chamber.
Dr. Al Baharna he is a Board Member at the Borgen Project, and participates in frequent conferences on Foreign Policy and Global Affairs. Dr. Al Baharna is a member of the Advisory Board of the Institute for Cultural Diplomacy, Berlin.