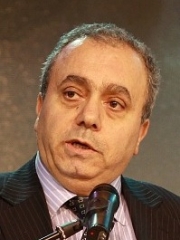 Rt. Hon. Hrant Bagratyan (Armenia)
Hrant Bagratan is a former Prime Minister of Armenia and current Professor of Economics at the Russian-Armenian University in Yerevan.
He served as the First Deputy Head of Government and Minister for the Economy in Armenia between 1990-1993 after which he became Armenia's 4th Prime Minister.
Whist in office, he led a series of market economic reforms which have been qualified by the by the World Bank as the best in the post-soviet area (between Baltic countries).
During Mr. Bagratyan's term price liberalization, land reform, privatisation of small and medium size businesses were realised.
He also initiated tax, custom and banking reforms (culminating in the formation of an independent central bank in January 1994).
In the first half of 90's he succeeded in increasing the weight of the private sector (GDP) from 13 to 78%. He also initiated the reconstruction of the Armenian nuclear power station and energy sector reforms in the Armenian economy.
After his term he became an Advisor to the IMF as well as a leading academic in the fields of economics and market reform; he has authored 16 books and 62 research papers.
1995 - "The men of the year" of ABI (American Biography Institute).

1998 - "The men of the millennium" of UN and Cambridge Biography Center.