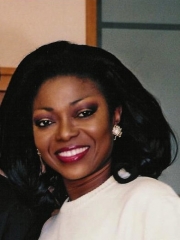 Patti Boulaye (United Kingdom)
Patti Boulaye is an award winning international superstar singer.
Patti Boulaye (BIPADA Founder) has over 30 years experience as a public figure both in Africa and the western world. As a certified Etiquette Professional with personal detailed experience of international Royal and High level Protocol. Recognized international Public Speaker she has spoken in the UK Houses of Parliament. She recently received the "British Community Honours Award" and was made the "Senior Fellow of the Order of Saint Hadrian of Canterbury".
She was a Founder Member of the Patron's (HRH Prince Michael of Kent) Enterprise Club for GENESIS INITIATIVE the facilitator organisation for the All Party Parliamentary Group for the promotion of Small & Medium Business. – Promotion of Enterprise. Patti was on the Creative Committee of HM The Queen's Golden Jubilee Celebrations in 2002 at Buckingham Palace and a Patron of Women into Business.
She is an "Ambassador for Peace" for the Universal Peace Federation (UPF), Patron of the Eastside Educational Trust; Women's Federation for World Peace (WFWP), and a Governor of British American Drama Academy (BADA) affiliated with Oxford and Yale Universities. Her detailed International Protocol experiences include working in Japan, Jordan as guest of HRH Prince Hassan, Spain, Germany, USA, Nigeria, and France. Patti organised and Produced high level Shows and concerts in London's Royal Albert Hall over seeing Logistics and People management; she is a Fellow of the Royal Society of Art – Promotion of Art and General Human Skills; President/founder of Support for Africa – building a school & Five Health Care Clinics in Africa. She has Management skills and Command of Enterprise.
Patti is an award winning International Star, Singing for Royal families including HM The Queen, ​The Aga Khan, HRH Princess Margaret, HRH Prince Charles, HRH Princess Diana, Dukes and Duchesses. She had been invited to 10 Downing Street under Sir John Major, Baroness Thatcher, Tony Bair and Gordon Brown. She grew up in a large family in Nigeria, lives in the UK and is married with two children.